Serum (SRM) has bounced at a crucial support level, but has a long way to go in order to confirm its potential bullish reversal.
There are crucial resistance areas at $9.40 and $11, created by Fib resistance levels. Until SRM clears them, the trend cannot be considered bullish.
SRM falls after all-time high
SRM has been falling since Sept 11, when it reached a new all-time high price of $13.73 and created a shooting star candlestick. This is a type of candlestick that has a long upper wick, indicative of strong selling pressure. 
The downward movement continued until a low of $6.70 was reached on Sept 26. The low was made right at the 0.618 Fib retracement support level, which is a common area for a bounce after considerable drops.
The Supertrend is an indicator created by using the high and low prices and can help in determining the direction of the trend. It was green (bullish) for a 53-day period between July 29 – Sept 21, going side by side with the upward movement. However, it has now turned bearish. 
The RSI is right at the 50 line and is at risk of falling below it. The RSI is a momentum indicator, and its movement above and below 50 determines the direction of the trend. Similarly to the Supertrend, it moved above 50 on July 26 (green icon), preceding the entire upward movement.
Short-term movement
Cryptocurrency trader @TheEurosniper outlined a SRM chart, stating that the $8 area is likely to initiate a bounce.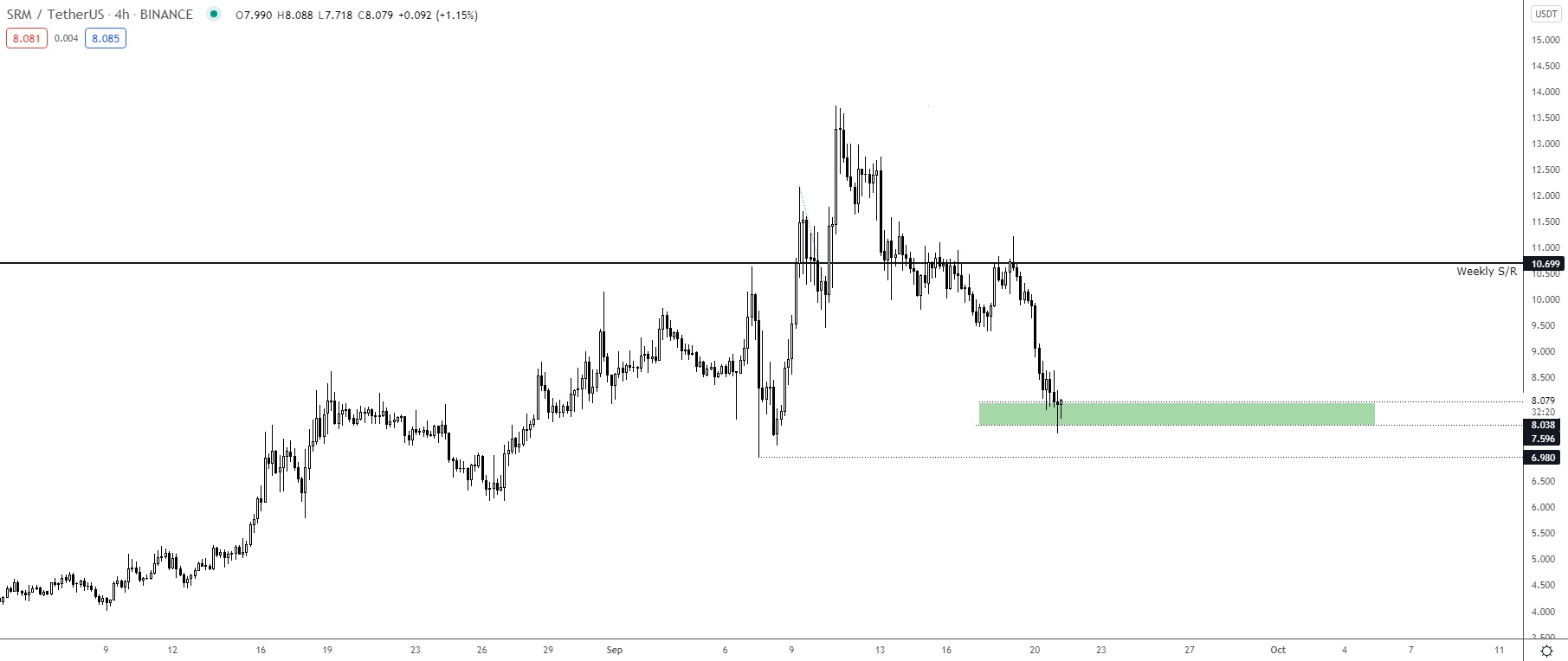 After the aforementioned bounce, SRM managed to break out from a descending resistance line that had been in place since the all-time high. 
However, it was rejected by the 0.382 Fib retracement resistance level at $9.40. This is also a horizontal resistance area. In order for the reversal to be confirmed, SRM has to break out above this level.
As was the case during the decrease, the 0.618 Fib retracement support level acted as support. When measuring the drop, the 0.618 Fib retracement resistance level is at $11.07. If SRM gets there, it is now expected to act as resistance.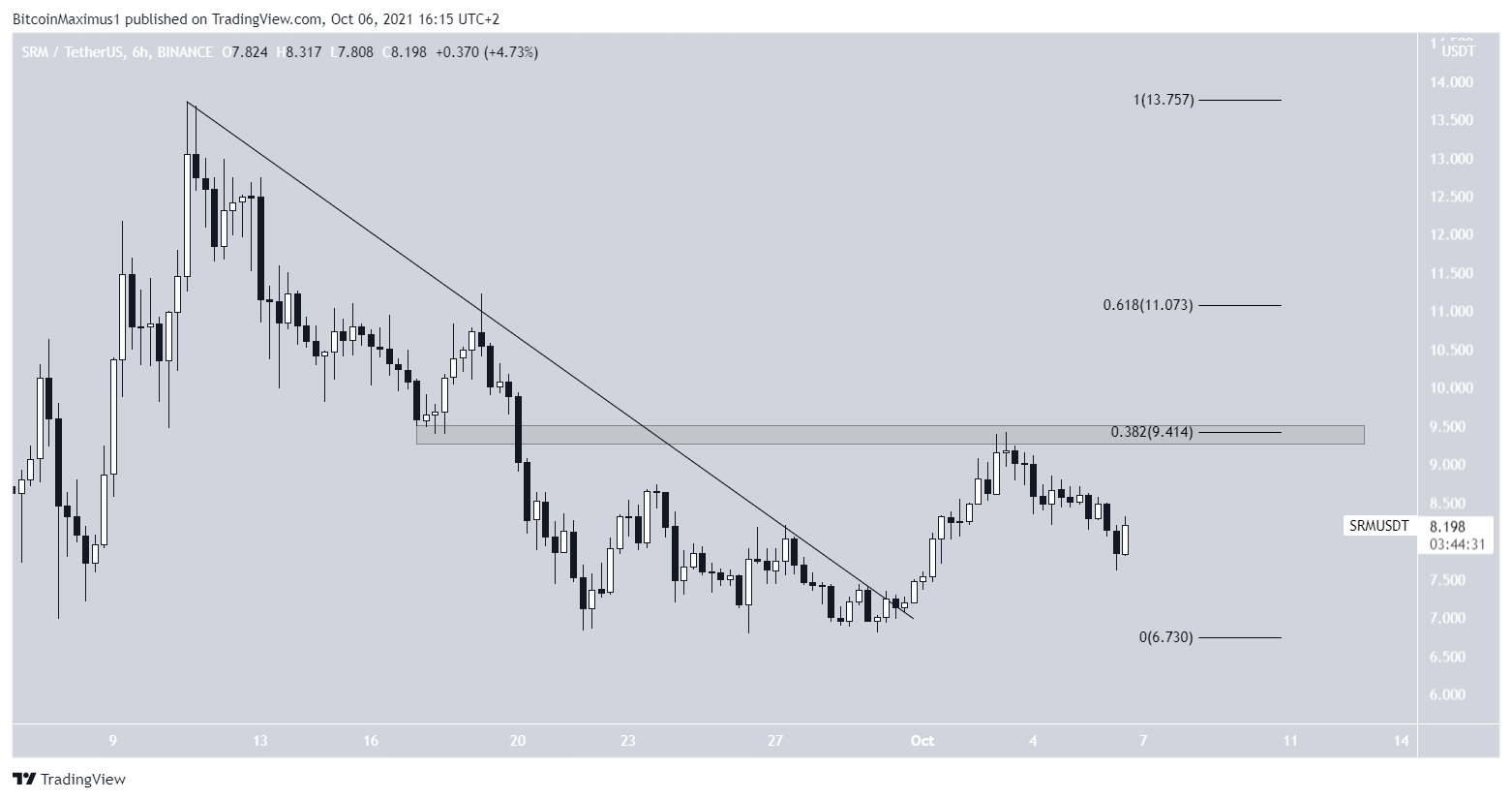 Wave count
The most likely wave count suggests that SRM is in a long-term wave three (white), which will take it towards a new all-time high price. The sub-wave count is given in orange. Therefore, the five sub-waves would complete wave three, which would be expected to take SRM to a new all-time high. 
A preliminary target would be between $38.50-$41.20, created by extensions on sub-wave one (orange) and wave one (white). 
However, the level is only preliminary, since it will depend on how the movement shapes up.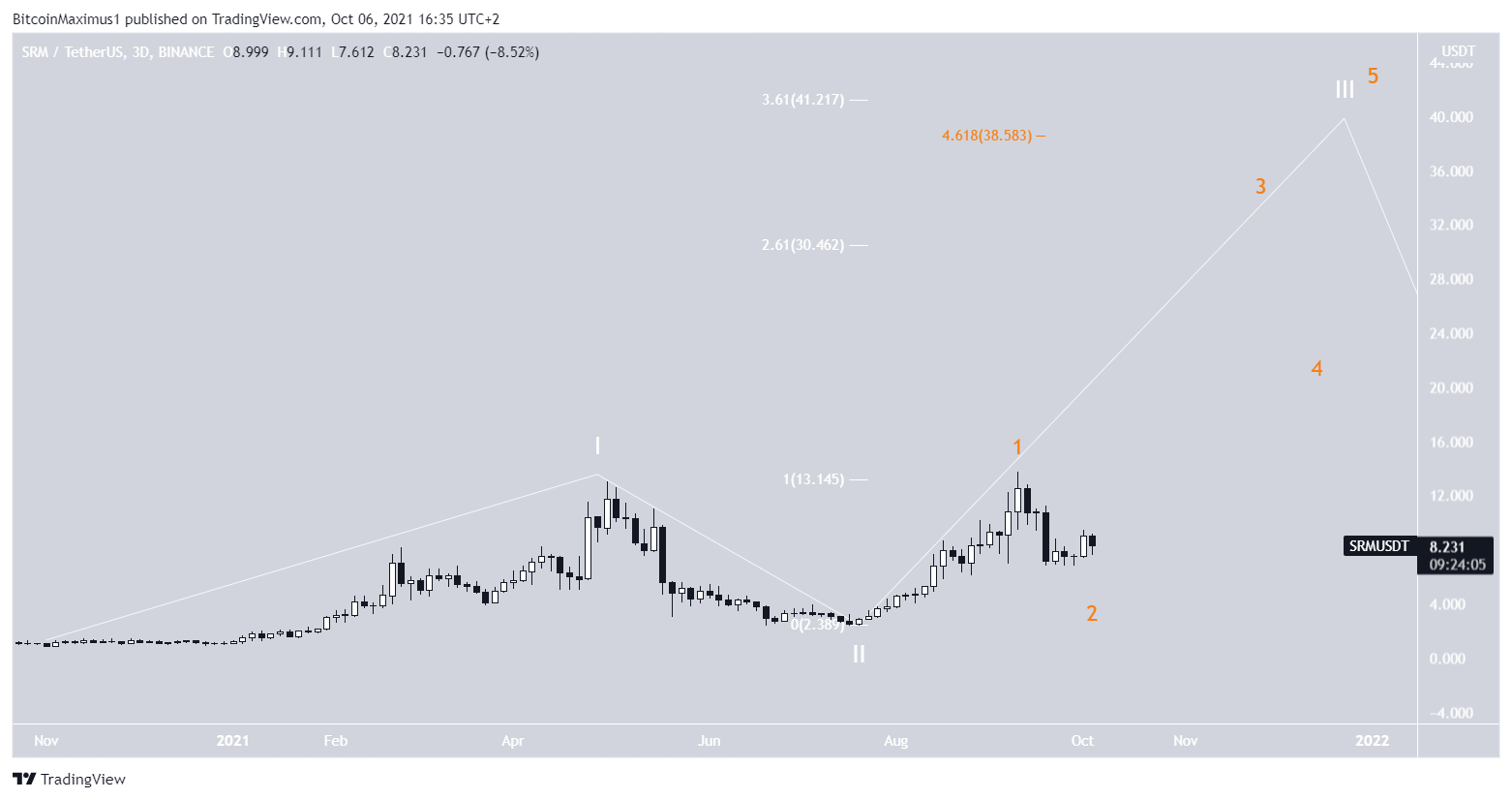 The short-term count is not as clear. There are two possibilities, first being that the decrease (highlighted) was sub-wave two (orange), while the second being that it is only the first part of a three wave decrease (black) in sub-wave two.
However, both scenarios point to a short-term increase towards the 0.618 Fib retracement resistance level at $11.07, as outlined in the previous section. The shape of the upward movement will help in determining the direction of the future trend.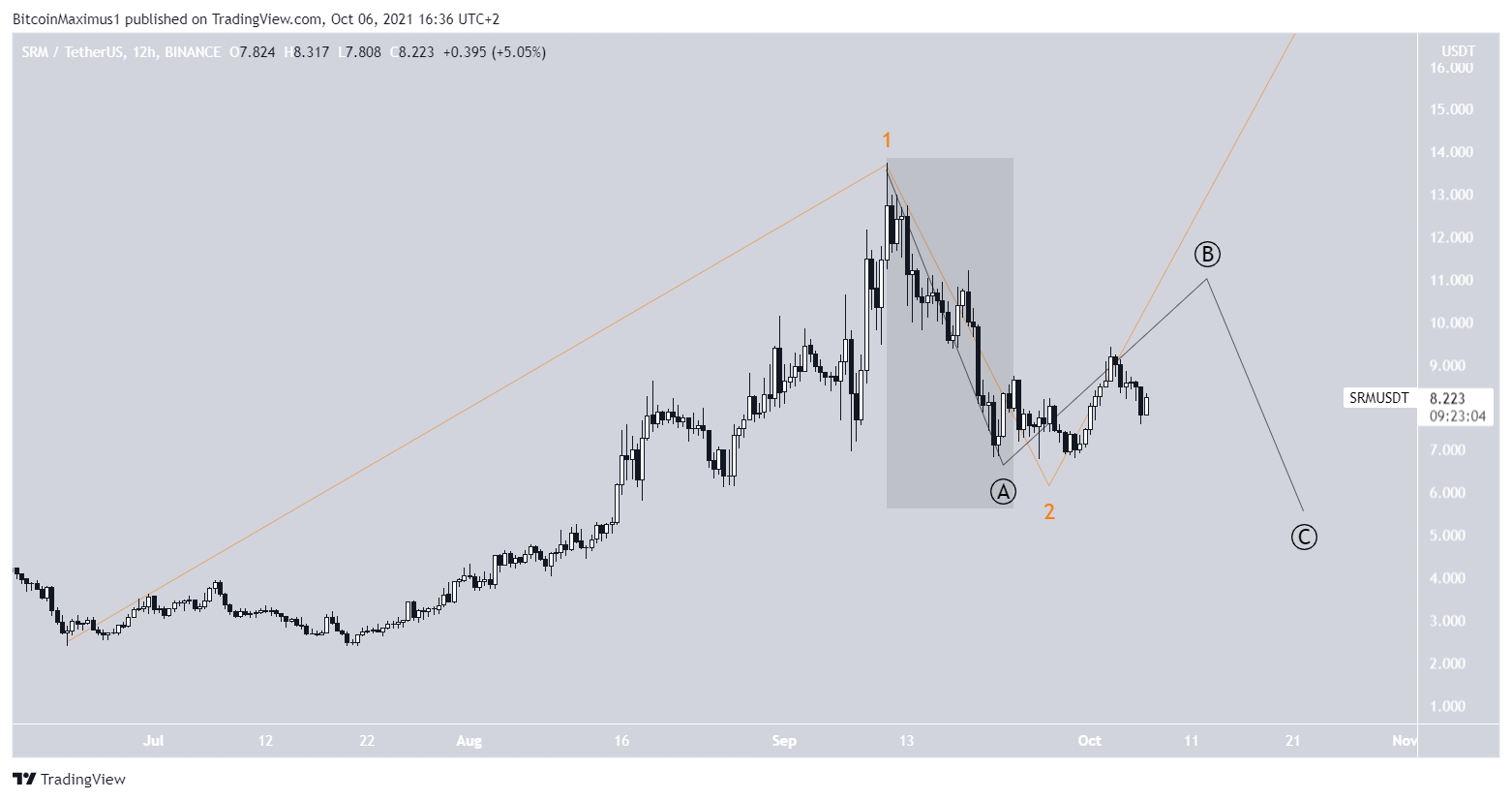 For BeInCrypto's previous Bitcoin (BTC) analysis, click here.
What do you think about this subject? Write to us and tell us!
The post Serum (SRM) Finds Footing After Significant Drop, Eyes Bullish Reversal appeared first on BeInCrypto.
Source: BeInCrypto
Don't forget to share your review/suggestions for the android app.
All In One Crypto App is an execution-only service provider. The material provided on this website is for information purposes only and should not be understood as investment advice. Any opinion that may be provided on this page does not constitute a recommendation by All In One Crypto App or its agents. We do not make any representations or warranty on the accuracy or completeness of the information that is provided on this page. If you rely on the information on this page then you do so entirely on your own risks