A look at three exchange based tokens, including Loopring (LRC), which could be in the initial phases of a considerable upward movement.
LRC
LRC had been decreasing alongside a descending resistance line since Feb 12, when it had reached an all-time high price of $0.89. 
The breakout on Aug 22 put and end to this downward movement and indicated that the correction had come to an end. 
However, LRC failed to break out above the $0.575 horizontal resistance area, which was validated by the ensuing rejection. While it has been decreasing since, the token seemingly found support above the previous descending resistance line, which is now expected to act as support. 
A short-term upward movement began on Oct 12. 
The increase is supported by readings from technical indicators. 
The MACD is increasing and has just crossed above the 0 line. The MACD is created by a short- and long-term moving average (MA), and this means that the short-term trend is faster than the long-term one. It is a positive sign during upward movements. 
The RSI has also just moved above 50. The RSI is a momentum indicator and the fact that it is above 50 is a sign of a bullish trend. The previous time it did so, it broke out from the aforementioned descending resistance line.
An eventual movement above the $0.575 resistance would likely accelerate the rate of increase.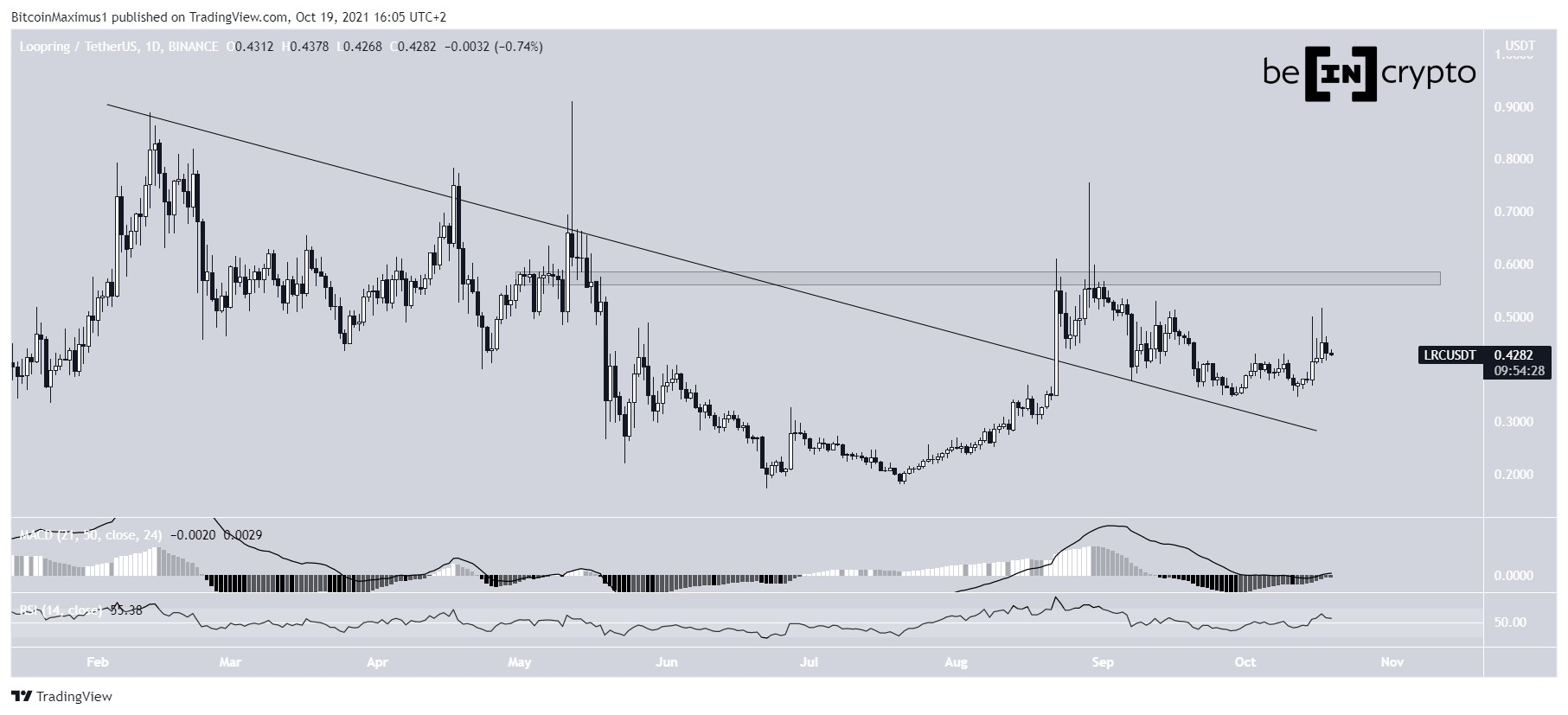 Highlights
LRC has broken out from a long-term descending resistance line.
There is resistance at $0.575.
UNI
UNI had been following a descending resistance line since Sept 1. While doing so, it fell to a low of $17.73 on Sept 26. However, the token reversed trend and has been moving upwards since. 
On Oct 1, it broke out from the descending resistance line. The UNI movement is almost identical to that of LRC, with the difference being that it is transpiring at a much shorter time-frame.
Despite the breakout, UNI has failed to move above the $27.20 area, which is acting as horizontal resistance. More recently, it rejected the token on Oct 16.
Nevertheless, each time an area is touched, it becomes weaker. Since UNI has already made two breakout attempts, the next one would likely be successful.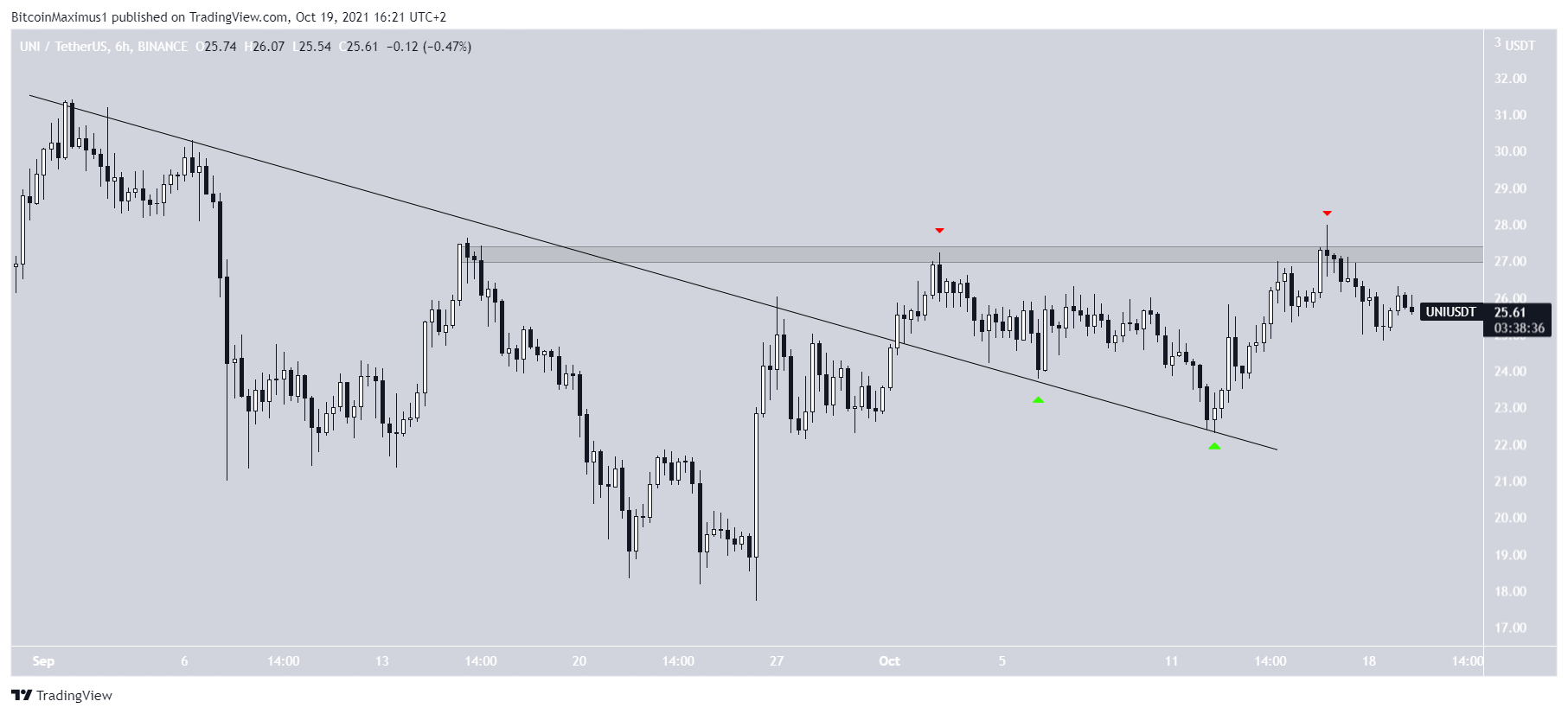 Highlights
UNI has broken out from a short-term descending resistance line.
There is resistance at $27.2
CRV
CRV has been moving upwards since May 23. However, the upward movement has been contained inside an ascending parallel channel. This usually means that the movement is corrective, thus a breakdown would be likely. 
So far, the token has been thrice rejected by the resistance line of the channel. The most recent two has also coincided with a rejection from the $3.04 resistance area, which is the 0.618 Fib retracement resistance level. Therefore, CRV is trading right below a confluence of resistance levels. 
The MACD and RSI both provide a relatively neutral outlook, failing to confirm the direction of the trend. 
While the fact that CRV is trading in the upper portion of the channel is a bullish sign, it is not sufficient in order to predict a breakout. 
As a result, as long as CRV is trading below the $3.04 level, the trend can be considered bearish.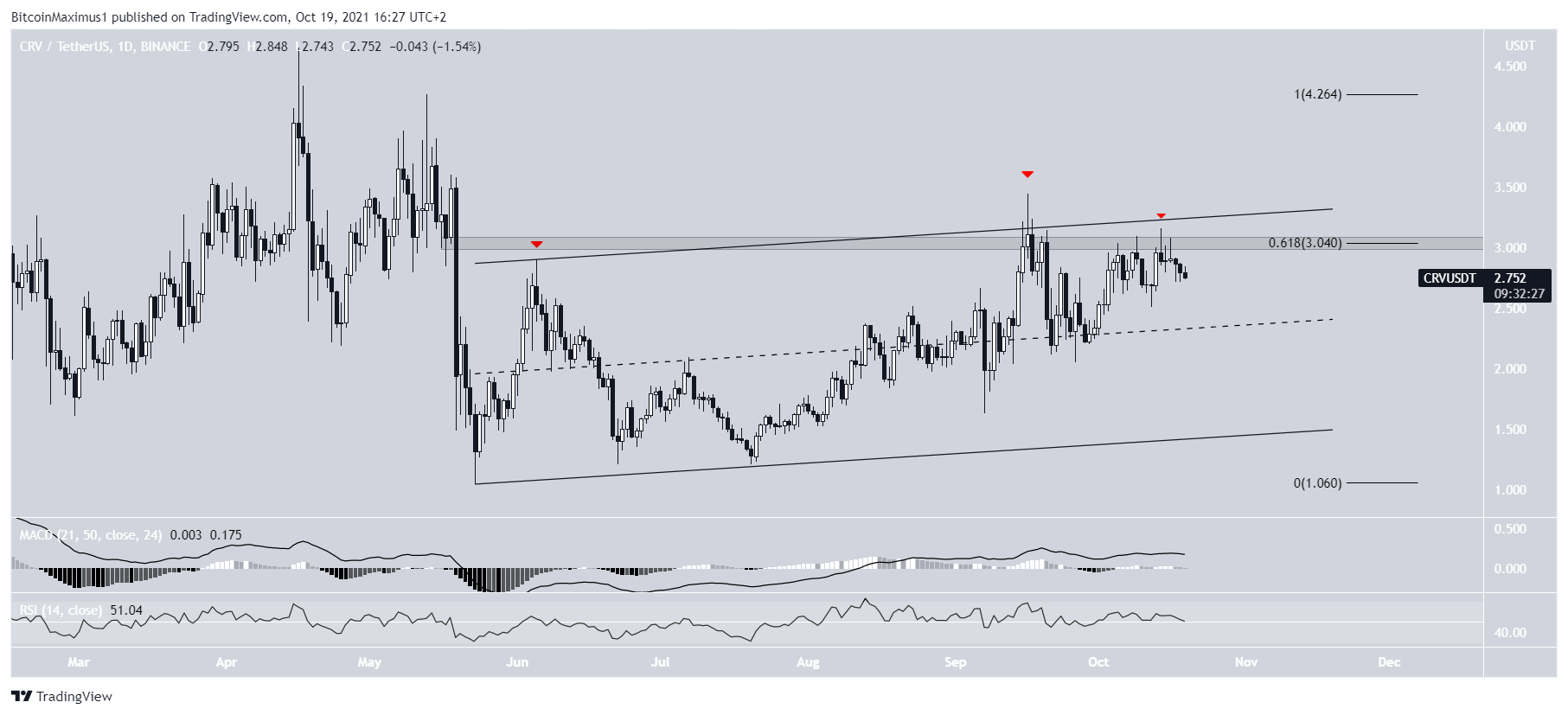 Highlights
CRV is trading inside an ascending parallel channel.
There is resistance at $3.05
For BeInCrypto's latest Bitcoin (BTC) analysis, click here.
What do you think about this subject? Write to us and tell us!
The post Loopring (LRC) & Uniswap (UNI) Break Out On Different Timeframes appeared first on BeInCrypto.
Source: BeInCrypto
Don't forget to share your review/suggestions for the android app.
All In One Crypto App is an execution-only service provider. The material provided on this website is for information purposes only and should not be understood as investment advice. Any opinion that may be provided on this page does not constitute a recommendation by All In One Crypto App or its agents. We do not make any representations or warranty on the accuracy or completeness of the information that is provided on this page. If you rely on the information on this page then you do so entirely on your own risks