The post Bitcoin Spark vs XRP: A Comprehensive Comparison in the Crypto Space appeared first on Coinpedia Fintech News
Bitcoin Spark (BTCS) and XRP have been at the centre of crypto in August. So, let's explore these innovative cryptocurrencies.
What is XRP?
XRP is a digital currency created by Ripple. XRP operates on a more centralized network, utilizing a consensus algorithm called the Ripple Protocol Consensus Algorithm (RPCA) to validate transactions through a small network of trusted validators. XRP is designed to enable fast and low-cost global money transfers and remittances. It serves as a bridge asset, making it possible to transfer value across borders in seconds. However, it's important to note that XRP has faced regulatory challenges that are still at play to date.
How to buy XRP
To buy XRP, you'll need to choose a cryptocurrency exchange that supports XRP trading. Some popular options include Binance, Coinbase, and Kraken. Next is to create and verify your account on the exchange. Once you've done this, deposit funds into your exchange account. Most exchanges offer options to deposit funds through bank transfers, credit/debit cards, or other cryptocurrencies. After depositing funds, search for XRP in the exchange's trading platform and place an order. Once your order is executed, the purchased XRP will appear in your exchange account's wallet. For added security, consider transferring your XRP to a private cryptocurrency wallet.
What is Bitcoin Spark?
With the rapidly increasing adoption and interest in crypto, speed, security, scalability, and real-world applicability are becoming key factors for the growth of crypto projects. Bitcoin Spark is a new Bitcoin fork that seeks to build on the vision of Satoshi Nakamoto. And provide a cryptocurrency that will stand the test of time.
The Bitcoin Spark network will have a reduced time per block, increased individual block transaction capacity. And a significantly higher number of nodes than its predecessor. These changes ensure faster transaction speeds and lower gas fees.
Notably, Bitcoin Spark will support smart contracts. It will accomplish this through separate contract execution systems, all reaching finality on the main network. This layered design will allow for smart contract development in multiple programming languages, including Solidity, Vyper, and Rust. The ability for both high and low-level programming languages to be used is bound to attract a larger scope of developers. Fostering an ecosystem of diverse applications and smart contracts.
The Bitcoin Spark network uses a new and innovative consensus mechanism that blends aspects of Proof-of-Work (PoW) and Proof-of-Stake (PoS), known as Proof-of-Process (PoP). For users to participate in network validation and earn rewards, the PoP requires them to stake on the network and provide processing power. The PoP is used with an algorithm that exponentially decreases rewards per larger stake size and per additional power to ensure a more equitable distribution of rewards among smaller and larger network participants. Additionally, the Bitcoin Spark development team will provide an application that allows users to participate in network validation by permitting access to their device's processing unit.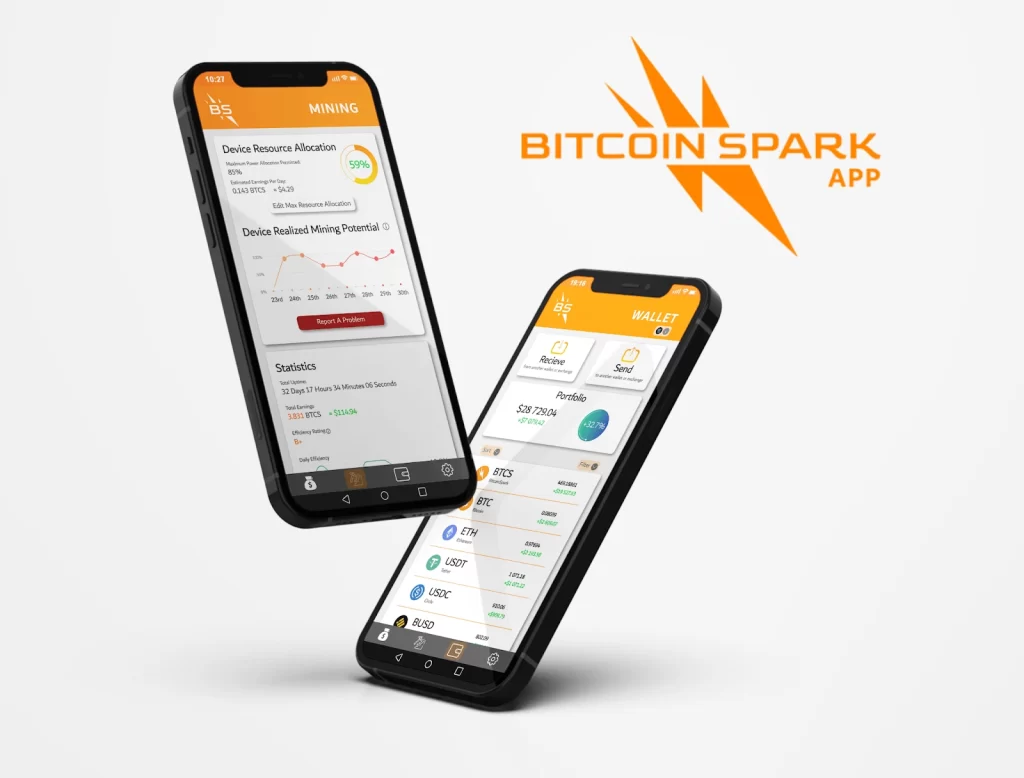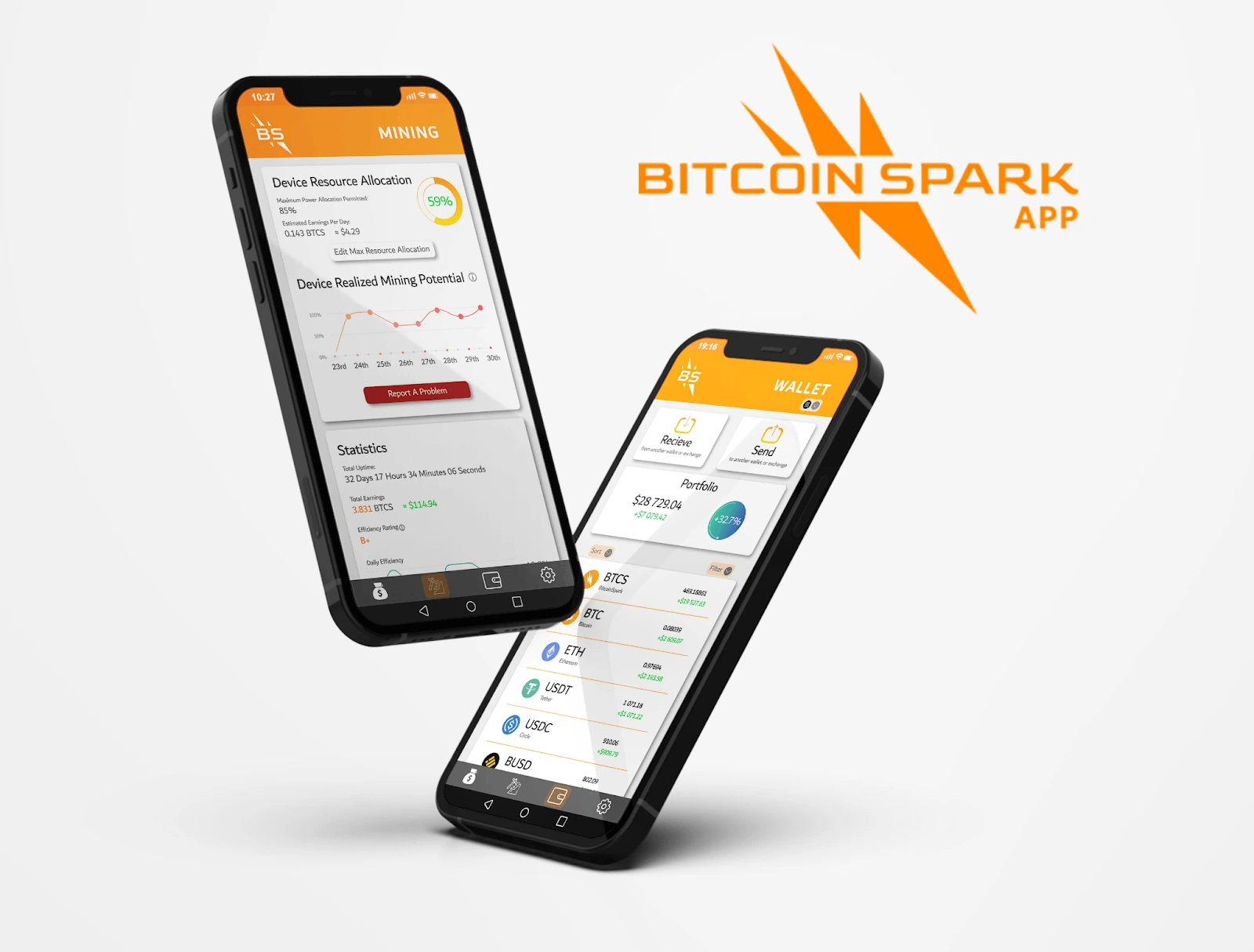 The Bitcoin Spark application will be user-friendly and compatible with Android, Windows, iOS, Linux, and Mac OS devices. All processing will run through the CPU/GPU and RAM in a virtual environment that does not affect or interact with any other device part. Miners can set the amount of resources permitted for confirming blocks, and the application will automatically limit itself to the set resources. This approach significantly reduces the work and power used for block validation.
The processing power provided by miners is rented out to Bitcoin Spark's clients, who pay for the service using BTCS. The revenue generated will be sent to the mining pool, thus providing another source of income for network validators. Moreover, Bitcoin Spark will include secondary revenue-generation services to reward its network participants more, including advertising on its application and website.
How to buy BTCS
Bitcoin Spark is in its Initial Coin Offering (ICO) stage, allowing users to buy BTCS before it officially reaches the market. BTCS is currently selling at $1.75 in Phase 2 of the ICO. Investors at this level get a 15% bonus and a guarantee of a 657% increase in investments by the end of the ICO. To buy BTCS, go to the Bitcoin Spark official website, click "Buy BTCS " then follow the simple instructions.
Website: https://bitcoinspark.org/
Don't forget to share your review/suggestions for the android app.
All In One Crypto App is an execution-only service provider. The material provided on this website is for information purposes only and should not be understood as investment advice. Any opinion that may be provided on this page does not constitute a recommendation by All In One Crypto App or its agents. We do not make any representations or warranty on the accuracy or completeness of the information that is provided on this page. If you rely on the information on this page then you do so entirely on your own risks