Ethereum gas fees are again touching record levels as meme coins take over the crypto space by storm. The frog-themed meme coin PEPE hype has especially caused Ethereum gas fees to hit a yearly high.
The high gas fee is making transactions costly for users, while also pushing up prices amid demand for meme coins such as PEPE.
Ethereum Gas Fees Reaches Yearly High
According to data by Etherscan, the average gas prices reached 94 gwei and even hit a high of 184 gwei on May 5. The massive jump in Ethereum gas fees is due to the increase in demand for meme coins on the Ethereum network, making transaction costs higher.
The hype surrounding PEPE meme coin and profits made by investors by trading in the meme coin is causing most people to swap their crypto including other meme coins to PEPE through Uniswap. The average transaction cost on Uniswap has jumped to $32.60.
As per data, transactions on Uniswap alone have burned over 15,000 ETH in the last 7 days. Uniswap currently accounts for 35% of gas fees, becoming the top "Gas Guzzler" in the last few days.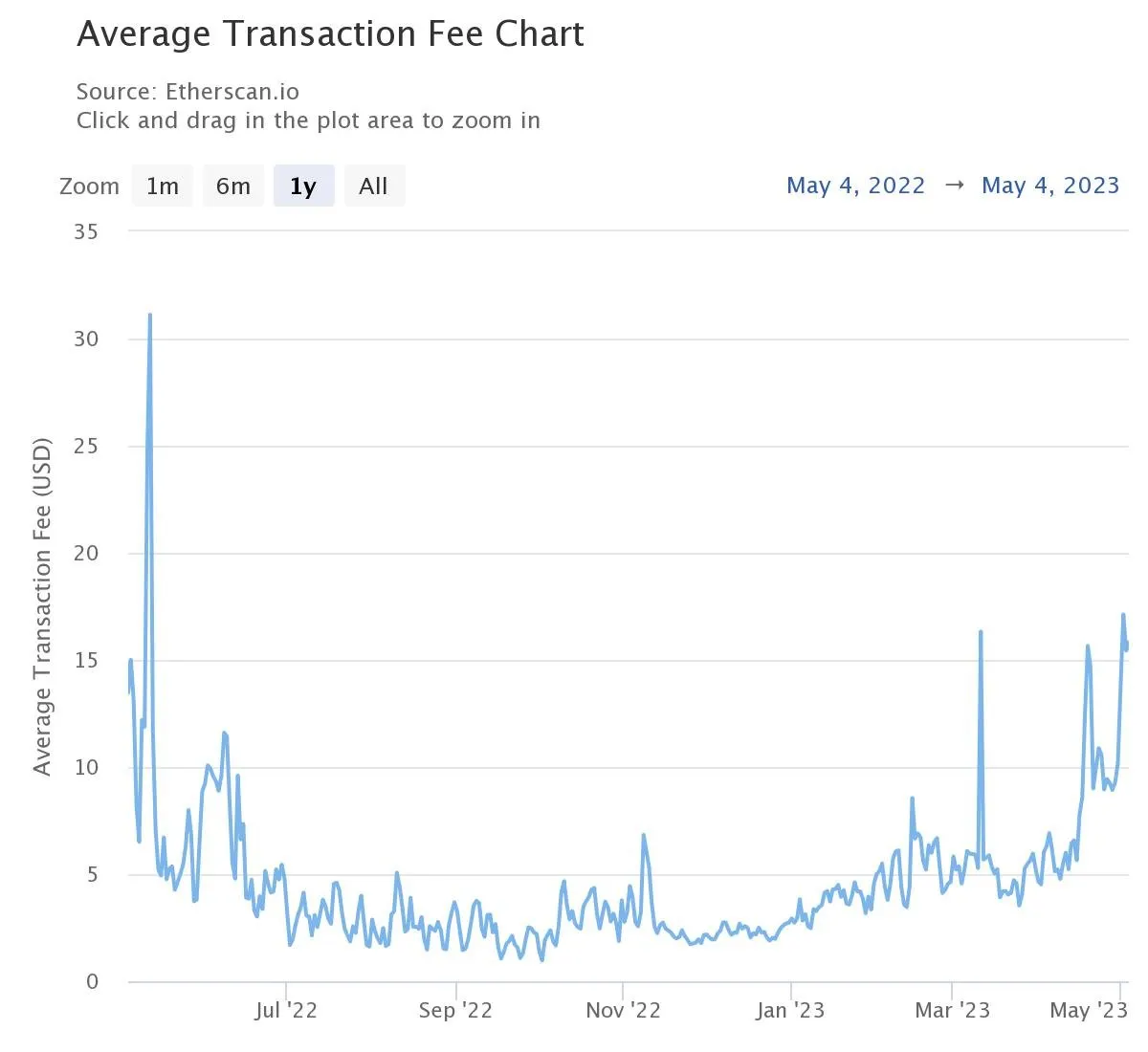 In the last 24 hours, the trading volume for PEPE jumps over $150 million on Uniswap, surpassing Tether (USDT) stablecoin and wrapped BTC (WBTC).
Also Read: Top Exchange Lists Pepe Coin After 200% Rally, Will It Flip SHIB and DOGE?
PEPE Price Skyrockets Over 600% in a Week
PEPE price has skyrocketed over 600% in a week as whales and traders pour money into the frog-themed meme coin. The market cap has reached $848 million, entering the top 100 crypto list.
PEPE price jumped 30% in the last 24 hours, with the price currently trading at $0.00000202. The 24-hour low and high are $0.00000151 and $0.00000232, respectively. Furthermore, the trading volume has increased by 150% in the last 24 hours, indicating an interest among traders.
Also Read: Coinbase Legal Chief Takes Pre-Emptive Strike Against US SEC
The post Ethereum Gas Fees Hit Record Levels Amid PEPE Meme Coin Hype; Flips SHIB, DOGE appeared first on CoinGape.
Don't forget to share your review/suggestions for the android app.
All In One Crypto App is an execution-only service provider. The material provided on this website is for information purposes only and should not be understood as investment advice. Any opinion that may be provided on this page does not constitute a recommendation by All In One Crypto App or its agents. We do not make any representations or warranty on the accuracy or completeness of the information that is provided on this page. If you rely on the information on this page then you do so entirely on your own risks