Bitcoin and Ethereum prices broke below $30,000 and $2,000 psychological levels this week after a "long squeeze" amid several factors including fresh interest rate hike fears and Binance opening staked ETH withdrawals.
Crypto expiry on Friday, April 21 to exert further selling pressure on the crypto market. An over 21% fall in total crypto market volume in the last 24 hours clearly indicates selling amid volatility in the broader market. Furthermore, the Crypto Fear and Greed Index fell from 68 (greed) to 50 (neutral) in just a week.
25,000 BTC options are set to expire, with a notional value of $0.72 billion. The put call ratio is 0.7 and the max pain point is $29,000. With the price already trading below the max pain level, it weakened the bullish scenario for Bitcoin.
Meanwhile, 217,000 ETH options are about to expire, with a notional value of $0.42 billion. The put call ratio is 0.83 and the max pain point is $1,950. Ethereum price is also under pressure with the possibility of breaking below $1900.
The monthly expiry on April 28 is even larger this expiry. Thus, traders will be looking to offload amid a possible selloff at the month's end.
Also Read: Binance CEO "CZ" Downplays Post-Halving Bitcoin Price Prediction By ChatGPT
Bitcoin and Ethereum Price Showing Weakness
Bitcoin price fell below $28,000 on Coinbase. BTC price fell 3% in the last 24 hours, continuing the downfall since Wednesday. The price is currently trading at $28,166, with a 24-hour low and high of $28,037 and $29,076, respectively.
Popular crypto analyst Michael van de Poppe asserts Bitcoin is currently showing weakness after losing one of the crucial levels. The next support level is at $27,600. If the BTC price doesn't recover to $28,800, then a move to $26,200 can be witnessed.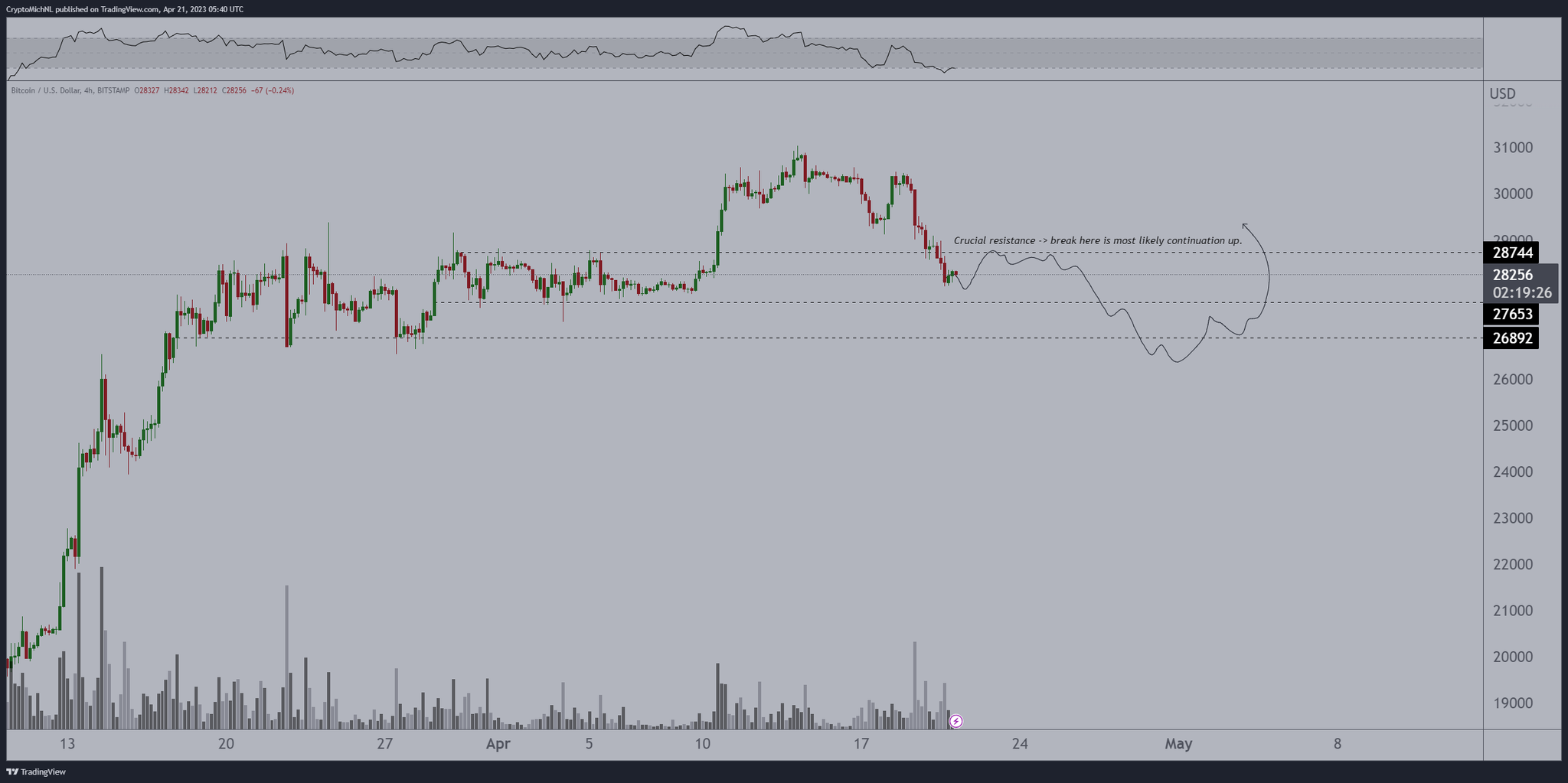 Meanwhile, ETH price is trading at $1,932, down 2% in the last 24 hours. The 24-hour low and high are $1,918 and $1,979, respectively. Continued ETH withdrawals after Shanghai finally put selling pressure on Ether, with whales transferring massive ETHs to Binance and other crypto exchanges.
Also Read: Dogecoin Price: Analyst Predicts When DOGE Reclaims New High
The post Crypto Expiry: Bitcoin and Ethereum Bearish Price Move To Break Key Support Levels? appeared first on CoinGape.
Don't forget to share your review/suggestions for the android app.
All In One Crypto App is an execution-only service provider. The material provided on this website is for information purposes only and should not be understood as investment advice. Any opinion that may be provided on this page does not constitute a recommendation by All In One Crypto App or its agents. We do not make any representations or warranty on the accuracy or completeness of the information that is provided on this page. If you rely on the information on this page then you do so entirely on your own risks