Leading market makers for the crypto market Jane Street and Jump Crypto are exiting the U.S. due to extreme regulatory crackdown, lack of regulatory clarity, and heightened scrutiny.
The US SEC-led crypto regulatory crackdown has raised a wide set of problems for leading crypto exchanges Binance, Coinbase, and other crypto-related entities, with some planning to move their operations offshore.
Jane Street and Jump Crypto To Exit US Crypto Market
Two of the world's top market-making firms Jane Street and Jump Crypto have decided to cease crypto trading in the U.S. amid an intense crypto regulatory crackdown in the US. The firms will continue market making and not leave the crypto market entirely, reported Bloomberg on May 10.
Jane Street preparing to scrap its global crypto expansion plans because regulatory uncertainty has made it difficult for the firm to meet internal standards.
Meanwhile, Jump Crypto, the digital asset division of Jump Trading, is exiting the US market but planning to expand its operations globally.
US federal departments and regulators have intensified regulatory crackdown against the crypto market following the FTX debacle and Terra-LUNA crisis. In fact, Jane Street and Jump Crypto were linked to FTX and Terra-LUNA crisis. Jump Crypto backed the TerraUSD algorithmic stablecoin by proving liquidity and funds, while Jane Street is cited by the US CFTC in its lawsuit against crypto exchange Binance. It is also linked to FTX and Sam Bankman-Fried. Many executives of FTX were earlier employees of Jane Street.
Crypto Market Could Face Severe Liquidity Issues
Market makers such as Jane Street and Jump Crypto support the crypto market by providing liquidity. Troubles due to lack of liquidity were one of the primary reasons for the crypto contagion seen last year.
The crypto market has already been becoming less liquid throughout the year and Jump and Jane Street pulling back their market-making activity will put further pressure.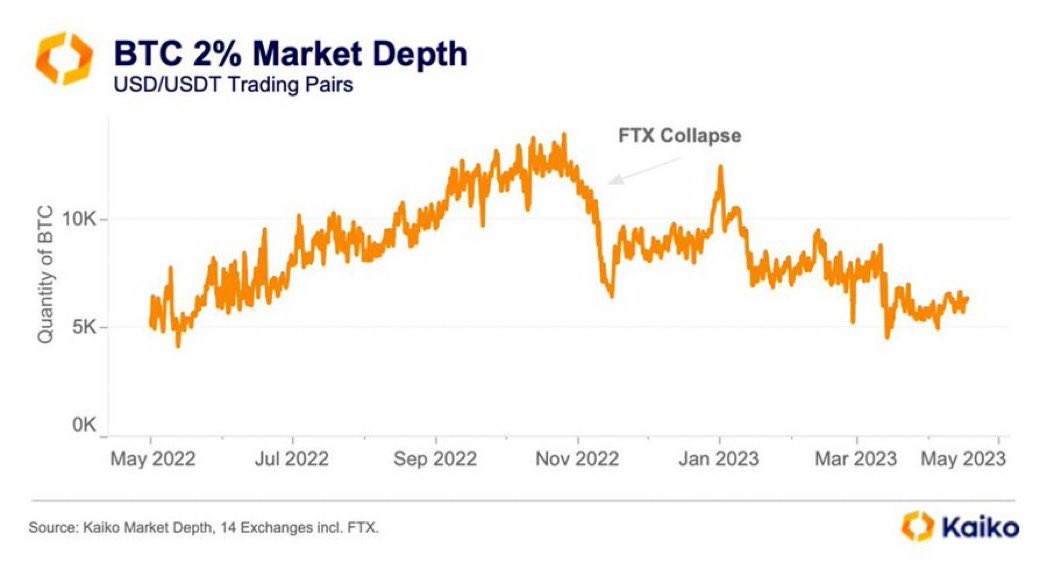 The post Binance, Coinbase Impacted As Jane Street, Jump Crypto Exit US Crypto Market appeared first on CoinGape.
Don't forget to share your review/suggestions for the android app.
All In One Crypto App is an execution-only service provider. The material provided on this website is for information purposes only and should not be understood as investment advice. Any opinion that may be provided on this page does not constitute a recommendation by All In One Crypto App or its agents. We do not make any representations or warranty on the accuracy or completeness of the information that is provided on this page. If you rely on the information on this page then you do so entirely on your own risks